We are 12 years on the customs services market
SB CARGO provides a full range of delivery and customs clearance services for any cargo from different countries of the world. Our main goal is to promote the business development of organizations with foreign economic activity in the Russian Federation and countries of the Eurasian Economic Community.
We do everything to ensure that the client received his cargo:
transport by land, water and sea;
deliver from the warehouse of the sender to the warehouse of the recipient;
issue customs declarations;
produce permits and certificates;
register the company at customs;
check the submitted documents;
give recommendations on filling in documents when sending cargo;
advise our clients on the peculiarities of international transportation and stages of documentary customs clearance.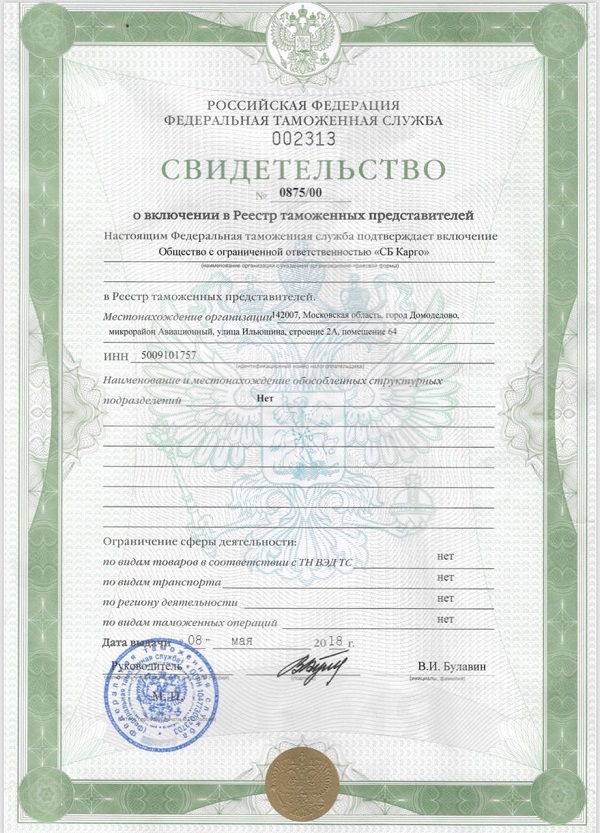 The customs representative «SB CARGO» is included in the register of customs representatives of Federal customs service of the Russian Federation (the certificate of FCS of the Russian Federation No. 0875/00).
We help clients to comply with all the features of the customs legislation when declaring goods to the customs authority.
A personal manager with a higher specialized education who has been certified by the Federal Customs Service works with each client. We simplify the customs clearance process for our customers by providing quality service and strive to create conditions for increasing the financial performance of our partners.
The customs representative of «SB CARGO» carries out registration of freights at all customs authorities of FCS of Russia, including:
Moscow Customs;
Moscow Regional Customs;
Domodedovo Customs;
Vnukovo customs;
Sheremetyevo customs;
Pulkovo customs;
Novorossiysk customs;
Baltic customs;
Vladivostok customs;
Pskov customs;
St. Petersburg Customs;
Northwest Excise Customs;
Central excise customs.
We deliver goods by all types of transport from door to doorand from any point of the world.
We are members of the Charter of conscientious participants of foreign economicactivity
and strive to promote effective customs control and minimize the number of violations of customs rules.